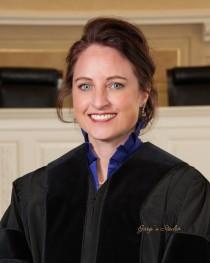 Year Elected or Appointed to Current Position
2022
Education:
B.A. magna cum laude, with distinction in Politics, Hendrix College; J.D., UALR Bowen School of Law, highest honors, 1999
Law-Related Employment:
Hearing Officer, Conway Housing Authority
Law Practice or Teaching Areas:
Wood Law Firm (Conway); Williams & Anderson PLC (Little Rock); Focus: appellate law, health law, and business law; practiced in Arkansas federal trial and appellate courts. Assistant Dean, UALR Bowen School of Law. Focus: student admissions, teaching health law and business law, founding the externship program, coaching Moot Court; Certified Faculty, National Center for State Courts; Frequent lecturer and presenter for Arkansas Bar Association, Arkansas Association of Women Lawyers, University of Arkansas for Medical Sciences, Arkansas Administrative Office of the Courts, local county bar associations, community organizations.
Prior Judicial Experience:
Circuit Judge, 20th Judicial District, 2007-2012; Arkansas Court of Appeals Judge, 2013-2014.
Associations:
Arkansas Judicial Council. Committee for Education, Committee for Long-Range Planning, Committee for Racial and Gender Equality, and Committee for Juvenile Drug Court(Co-Chair); Arkansas Bar Association. Committee for Health Law (Co-Chair), Committee for Find-a-Lawyer (Chair); Law School Committee six-year delegate to the Arkansas Bar Association, and Legislative Liaison for Health Law; Faulkner County Bar Association.
Publications:
Contributor, Arkansas Bar Association, HIPAA Preemption Analysis for the State of Arkansas (2003); Contributor, Arkansas Bar Association, Arkansas Public Health Bench Book (2009).
Awards:
Arkansas Woman Law Graduate of the Year; Arkansas Bar Association Outstanding Service Award, Recipient (five-time): Best Continuing Legal Education Presentation, by Arkansas Bar Association; Arkansas Elected Official of the Year, by Arkansas Federation of Business and Professional Women; Community Leader of the Year, by Conway Rotary Club.
Other:
Top Score on the Arkansas Bar Examination; Founding Board Member, Conway Interfaith Clinic; Arkansas Business's "Forty Under Forty."