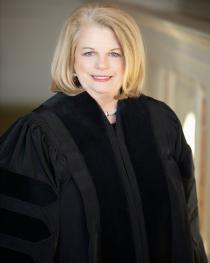 Year Elected or Appointed to Current Position
2020
Education:
Bachelor of Arts Degree in Political Science in 1979 from the University of Arkansas in Fayetteville, named to Phi Beta Kappa, and awarded the Henry M. Alexander Award for academic achievement as the top graduating Senior in her degree, Juris Doctorate from Bowen School of Law in 1982 and Associate Editor of the UALR Law Journal.
Law-Related Employment:
Southwestern Bell Telephone Company In-house counsel 1982-1987, Private Practice with Eichenbaum, Scott, Miller, Liles, & Heister Law, P.A. 1987-1997, Prosecuting Attorney for the 7th and 22nd Judicial Districts from 1997-2002, Quattlebaum, Grooms, Tull, & Burrow, PLLC, 2003-2005, Chief Executive Officer of the Arkansas Workers' Compensation Commission from 2015-2017, and served as an Adjunct Professor of the Bowen School of Law.
Prior Judicial Experience:
Administrative Law Judge from 2005 until 2015. First female Circuit Judge in Saline County in 2018. Chief Administrative Law Judge at the Arkansas Workers' Compensation Commission 2019 – 2020.
Associations:
Served as a Special Commissioner on the Arkansas Workers' Compensation Commission, a Special Justice on the Arkansas Supreme Court, a City Court Judge, a Special Judge in Municipal Court, and an Alderman. Practiced both criminal and civil litigation in both state and federal courts in Arkansas and handled major state regulatory proceedings in Arkansas and Oklahoma. Served on the Ethics Commission, Crime Lab Board, Juvenile Justice Coalition, Child Abuse and Prevention Board, and Department of Justice Anti-Terrorism Task Force. Member of the Arkansas Bar Association and has served on various committees for the Bar.
Community Involvement:
Moderator of the Arkansas Presbytery, Elder, Deacon, Sunday School Teacher, and President of the local community theater "The Royal Players", Legal Counsel for the Ouachita Area of the Boy Scouts of America, the Saline County Domestic Violence Coalition, Ferncliff Camp and Conference Center, Saline County Safe Haven, Inc., Saline County Boys and Girls Club, and Benton Junior Auxiliary.