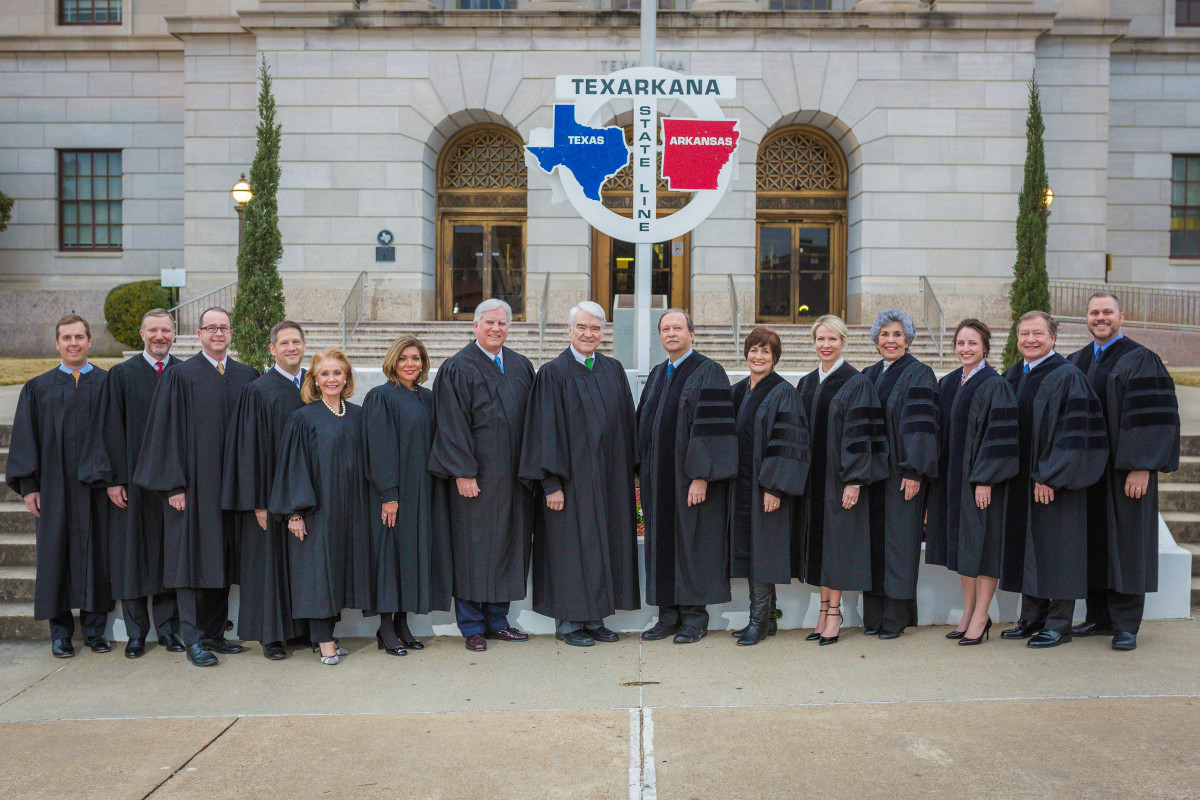 Photo by Debbie Brower Photography
The highest courts of Arkansas and Texas made history when they came together in the twin cities for a two-day outreach event on Jan. 30 and 31, 2019.
Justices from the Arkansas and Texas Supreme Courts first met at Arkansas High School in Texarkana, Ark., on Wednesday, where they heard oral argument in the case Carolyn Lawson vs. Simmons Sporting Goods, Inc. with the Texas Supreme Court in attendance. After the proceedings, they were paired with an Arkansas and Texas Supreme Court justice during student breakout groups.
"To actually get to sit in and see how the procedures work is just really cool," Arkansas High School senior Mica Chesshir told KTAL-TV.
On Thursday, Texas justices heard two cases at Texas High School in Texarkana, Texas, with justices from the Arkansas Supreme Court in attendance. After the proceedings, the students had a Q-and-A with justices from both states.
"No one really knows what it's like to be on the court and so to have the opportunity to sort of just share that, and that collegiality, it's just been fantastic," Arkansas Supreme Court Justice Rhonda Wood said during an interview with KTAL-TV.
The National Center for State Courts says this is the first known occurrence of two state supreme courts holding sessions in a joint appearance.
The twin cities also share the U.S. Post Office and Courthouse in Texarkana, which straddles the border between Arkansas and Texas.
"The Texarkana courthouse is unlike any other federal building in the nation because it is situated in both Arkansas and Texas. In the spirit of sharing and coming together, we thought it would be a special and distinct opportunity for students in Arkansas and Texas to observe an oral argument and meet members of both supreme courts," said Arkansas Chief Justice John Dan Kemp. "We knew the justices would benefit as well because the event would allow us to meet and discuss ideas about improving the administration of justice."
Prior to 2000, the Arkansas Supreme Court could not conduct court outside of Little Rock, but that changed with the passage of Amendment 80 to the Arkansas constitution. Since the passage of Amendment 80, the court has routinely held oral argument outside of Little Rock, traveling to cities such as Fayetteville, Hope, Monticello, Helena, Harrison, Jonesboro, Pine Bluff, Mountain Home, Fordyce, Clinton, and Heber Springs. These outreach events are called Appeals on Wheels.