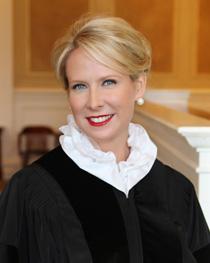 Year Elected or Appointed to Current Position
2010
Justice Courtney Rae Hudson began her service as an Associate Justice on the Arkansas Supreme Court on January 1, 2011. She was raised in Boone County where her extended family still resides on their cattle farm. In 1990, she graduated from Harrison High School. She went on to earn a Bachelor of Arts degree from the University of Arkansas and graduated Phi Beta Kappa and magna cum laude in 1994. Three years later, she graduated with high honors from the University of Arkansas School of Law after representing the law school on the national moot court traveling team.
Early in her career, Justice Hudson served as a law clerk for the late Judge Terry Crabtree of Bentonville and Judge Frank Aery of Conway. In 2008, the people of Washington, Benton, Johnson, Franklin, Madison, Carroll, and Crawford counties elected her to serve as a judge on the twelve- member Arkansas Court of Appeals. Two years later, she won her first statewide election, which placed her on the Arkansas Supreme Court at the age of 38. This made Justice Hudson the youngest justice ever elected to the high court by the people of Arkansas.
At the court, she has served as the supervising justice for the Client Security Fund, the Arkansas Code Revision Committee, and the Committee on Security and Emergency Preparedness. She also directs the payment of funds to court-appointed appellate attorneys. For the past several years, she has devoted a significant amount of her service to supervising the Committee on Professional Conduct, which is charged with the discipline of lawyers throughout the state.
In 2014, the Women's Law Student Association at the University of Arkansas awarded her the Gayle Pettus Pontz Award for best representing the accomplishments of women in the legal community, helping women thrive in law school, and advancing women in the legal profession. After serving her first eight-year term on the court, Justice Hudson was reelected statewide in 2018 to a second term. In addition to her official duties on the court, she devotes her time to mentoring law students and speaking to civic groups across the state. Justice Hudson and her three children live in Fayetteville.