Domestic violence is violence that occurs in intimate relationships. It is most often experienced in families. Domestic violence is a pattern of behaviors that batterers use to scare and create a feeling of fear in their victims. The pattern of behaviors are not because the batterer is angry. The pattern of behaviors are not because the batterer uses drugs or alcohol. The pattern of behaviors are not the victim's fault.
The use of physical violence is part of the overall pattern of behaviors. Batterers use physical violence to make their victims do what batterers want. Most often, the batterer wants the victim to comply with the batterer's rules. These rules may include:
Who gets to make the rules of the relationship
How men and women are required to behave
How the household is maintained
Who decides where and how the money is spent
Who gets access to phones, keys and transportation
These are examples of the range and content of rules created by batterers to establish, maintain, demonstrate or re-assert their right to have complete power and control over their victims. Batterers create and enforce rules for their victims that are important to them. The rules change as the circumstances change. (For more information please see Hart, Barbara J. Batterer Rules).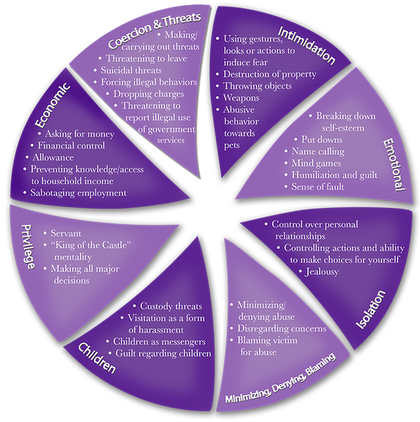 ​
Warning Signs of Domestic Violence
A push for a quick relationship
Jealous and possessive
Tries to control your life
Unrealistic expectations
Isolates you from friends and family
Blames others for their problems and mistakes
Makes everyone else responsible for their feelings
Says their feelings are easily hurt
Cruel to animals and children
Use of force during sex
Yells and calls you names
Sudden mood swings
Rigid sex roles
History of battering
Threats of violence
Threatens to reveal personal or damaging information about you to your family or employer